24 September 2021
A keen skier since the age of five, Deb King hasn't let vision loss get in the way of her love of the snow and travelling.
Deb was diagnosed with optic nerve head drusen at age 26. In her early 50s, the condition caused her to suddenly lose 75% of her vision and left her legally blind.
Deb was this year paired with her first Seeing Eye Dog, Zazu, and she's busy planning all sorts of winter adventures for the pair as soon as they're able to.
"I can't wait to take Zazu hiking and snow-shoeing. It's part of my grand plan. We'd like to take her to climb Mount Kosciuszko and for her to be the first dog to do so," Deb said.
Trips to Japan and Canada, where Deb has spent time before, are also on the cards for the pair when border restrictions allow.
"I've spent a few winters in Canada working teaching people with disabilities how to ski. I met another blind skiing instructor with a dog guide and realised there might be more tools to be independent which lead me to wonder if a Seeing Eye Dog was right for me," she said.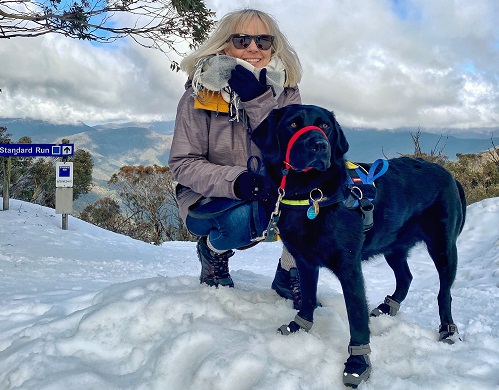 Caption: More winter adventure await Deb and Zazu.
The pair have been working together for just over four months and while they can't yet take on many of their adventures, Deb said Zazu's made a huge impact in her day to day life. 
"I can't see much out and about. I find moving around in social spaces and crowds the most difficult. I hadn't realised it before but in the last few years, I've started to become anxious in those situations. I've tripped and hit the deck a couple of times which is a real shock. Those little things compound and really make you lose your confidence.
"Zazu's given me more independence, a lot more reason to get out and walk more, and a purpose in life to go and get out and train."
Not only does Zazu help Deb be more active and independent, Deb said she also provides her with companionship.
"She's definitely one in a million. She's very, very clever a lot of fun. She is very patient and still when sitting and waiting for appointments, but a different dog when out and about
"Her becoming part of the family has been so important. The adventures we've got planned with her, we can't wait."