18 October 2018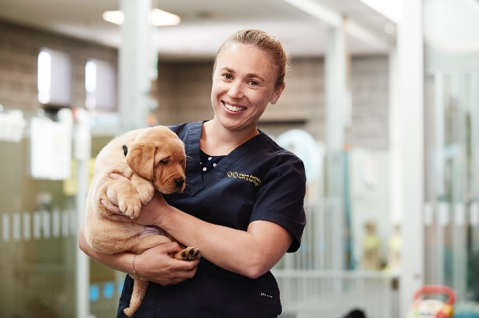 Meet Dr Nicola Cotton, Dog Development Manager,

Q: What is a typical day for you?
Dr Nicola: Every day is different, which is one of the reasons I love this job! From keeping an eye on the health of all of the dogs living at our training centre, attending to any dogs with injuries or illnesses, assisting our breeding females to give birth; to assisting clients if they require veterinary advice for their working dog.

Q: Do you get attached to puppies?
Dr Nicola: Of course, our Labradors' enthusiasm for life is infectious so it's impossible not to get a bit attached.  We all know though that they are being prepared for a very important job!

Q: What happens after people are matched with their Seeing Eye Dog?
Dr Nicola: The Instructor who trained the client with their Seeing Eye Dog remains in close contact with the working team (the client and working dog), and is always available to provide ongoing training support.
At any given time, there are up to 50 people on the waiting list for a Seeing Eye Dog. And with the cost to care for and train our beautiful dogs at over $50k, we rely on your kind generosity to help change the life of an Australian who is blind or has low vision.
To donate click: donate now
Please make a donation today. It's the single best way you can help care for and train more puppies to become Seeing Eye Dogs and support the young people and adults who are desperately waiting for one.