23 June 2020
Please join us in sending a huge "CONGRATULATIONS" to our newest graduates. These clever dogs all passed their rigorous training with flying colours.
Seeing Eye Dog Orella matched with Haley

Seeing Eye Dog Dylan matched with Kate

Seeing Eye Dog Bateman matched with Harry

Seeing Eye Dog Yael matched with Therese

Seeing Eye Dog Edgar matched with Julie

Seeing Eye Dog Heather matched with Louisa

Seeing Eye Dog Quimble matched with Virginia

Seeing Eye Dog Harvey matched with Samuel

Seeing Eye Dog Hetty matched with Glory

Seeing Eye Dog Harriet matched with Paulette

Seeing Eye Dog Georgia matched with Julian

Seeing Eye Dog Ivy matched with John

Seeing Eye Dog Noodle matched with Geraldine

Seeing Eye Dog Emeric matched with Martin

Seeing Eye Dog Neesha matched with Cassie

Seeing Eye Dog Kuma matched with Britnee

Seeing Eye Dog Tosca matched with Belinda

Seeing Eye Dog Happy matched with Suzanne

Seeing Eye Dog Vanessa matched with William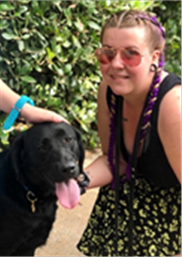 Britnee is delighted to have Seeing Eye Dog Kuma by her side.
"With Kuma, it's been a lot easier to get out by myself," explains Britnee. "I used to have to wait for my partner or my support worker."
"There are times when I can see okay and other times when my eye condition causes me to be totally blind. I don't panic when that happens anymore because Kuma is there to keep me calm."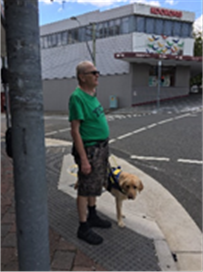 Seeing Eye Dog Emeric has transformed Martin's life.
"For the first time in 35 years I'm able to walk outside and feel safe," says Martin.
"Emeric has already stopped me from walking into two cars. I'm so impressed. He's made such an impact that I couldn't imagine life without him anymore. My family loves him, too."
"He gets me up in the morning and keeps me active and out of trouble."
These happy matches are thanks to you!
As a supporter of Seeing Eye Dogs, you are making the training and match-ups possible. You are changing the lives of Australians who are blind or have low vision, so they can live the life they choose.
Thank you so much!