04 September 2019
The past few years of Colleen Ashby's life have been turbulent, to say the least.
The now 54-year-old from Western Australia underwent a heart transplant in January 2017. During the operation Colleen lost a significant amount of blood and suffered oxygen deprivation.
As a result she developed ischemic optic neuropathy, an eye condition that left her with no central vision and only five per cent of her peripheral vision.
Prior to the transplant and losing her vision, keeping fit and being active was a passion of Colleen's and she wasted little time in getting active again.
By October 2017 she was on the waiting list for a Seeing Eye Dog. In July 2018, she was matched with her Seeing Eye Dog, Xian.
"Before Xian I was getting around with a pink cane. I was quite mobile, but not to the level I had previously been," she said.
If this story sounds familiar, it may be because you heard or saw Colleen tell it on the Channel Nine program "This Time Next Year", where participants make a pledge and return to the show a year later to see if they delivered on their promise. Colleen's pledge was to win a gold medal.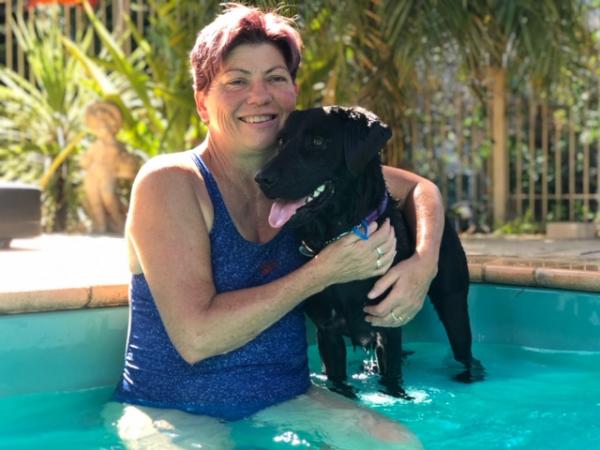 "It was actually lots of fun. We flew over there to go on the couch with Karl [Stefanovic] to do the pledge and share my story. Throughout the year they came out four times to film my progress."
Staying true to her pledge, Colleen competed in the Transplant Games, an opportunity for a recipient of any organ to compete in competitive and non-competitive sporting fare. She won her gold medal, completing her pledge. She also won a further three gold and one silver medal.
"The Transplant Games were a lot of fun. It's a celebration of living life. The families of organ donors also attend and can see the recipients of their organs competing and just living their life, it was a great week."
Xian has contributed a lot to Colleen's amazing recovery, enabling her to return to her fully loaded life at such a quick pace.
"Xian has given me so much confidence in crowded areas. New locations, some of them even interstate, she works with me amazingly. She's my best friend and companion who gets me where I need to go with confidence.
"After having the donation of life and losing my vision, I'm making the most of life with Xian in the best way possible."