17 January 2022
You'll find Monika Volpi hiking paths like Kalbarri and the most scenic routes of the Margaret River with the help of a special friend, her trusty Seeing Eye Dog Windsor.
'Windsor's given me my eyes back," she said.
"I am totally lost without a dog."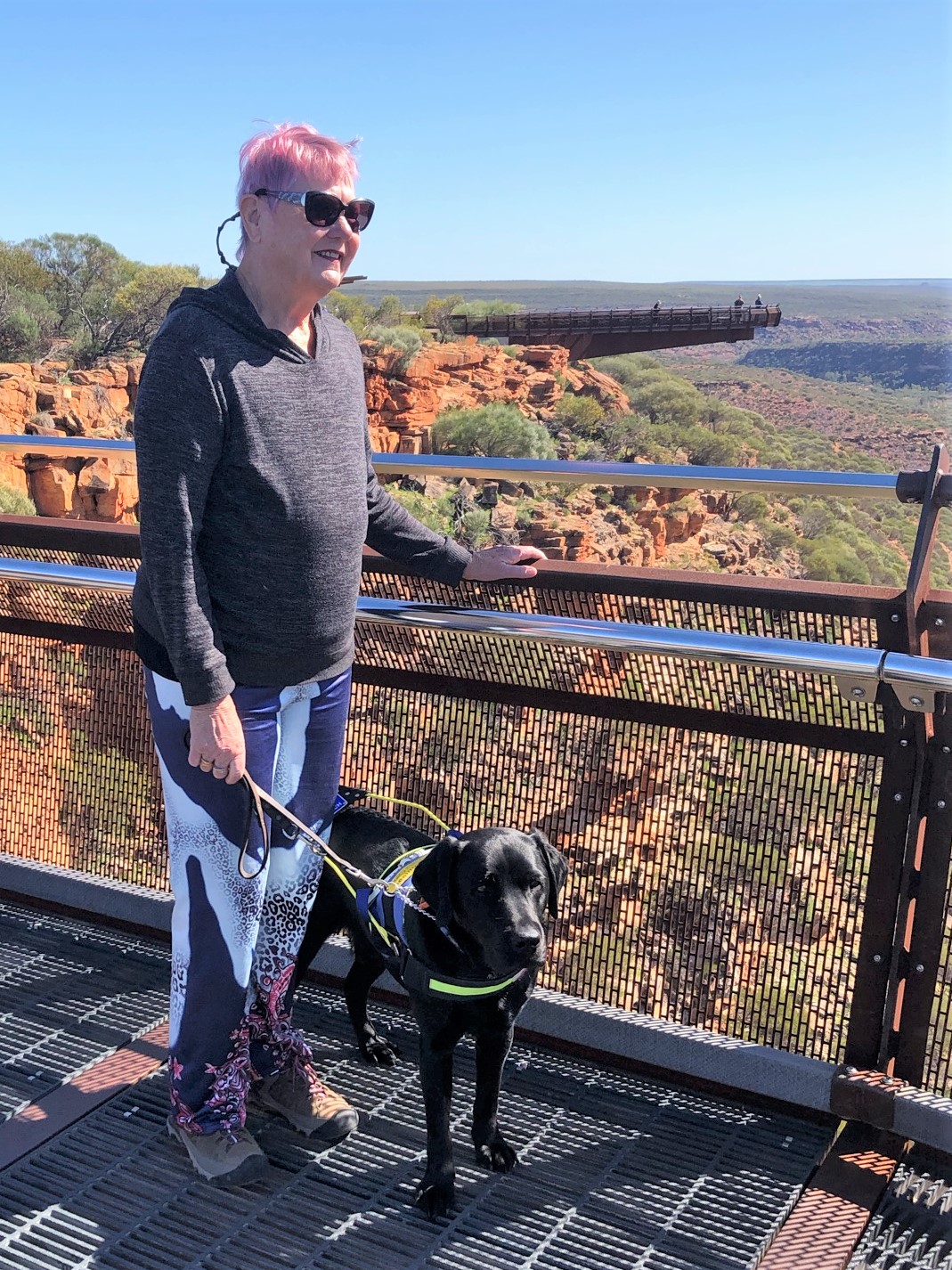 Having vision problems was a constant in Monika's life, but it gradually progressed into legal blindness after being diagnosed with Stargardt's disease at age 40.
"It's been a grieving process," she said.
"Some days are easier than others but you get on with it." Windsor has learnt that the road isn't always smooth, paved concrete on his travels with Monika, but he loves the challenge.
"Windsor has proven himself over and over again."
A recent trip to the Kalbarri gave Windsor a chance to show his training and guiding skills.
"Everything is climbing and Windsor was amazing, he just did his job it was one of the most amazing trips."
Windsor helps find the safest path for Monika, taking her along the 4WD tracks to make it easier.
"We take a track along Margaret River, it can be firm or quite soft…he knows to slow down when it's soft."
Prior to having a dog guide, Monika didn't walk out the front gate by herself for two years.
"I have been blessed I have memories to see colours, flowers, colours of the ocean," she said.
"My husband Hector has to describe things to me now. You have days where you get so frustrated. It gets tiring constantly trying to see."
Sometimes it's the little things that make all the difference in the life of someone who is blind or has low vision.
"I'll go into town, we'll wonder around and have a coffee," she said.
"Hubby has his own things, and I like to do my own thing."
Seeing Eye Dogs work with their handlers for eight to ten years. Monika and Windsor have bonded so strongly in a little over a year they have many more years of adventures ahead of them.
"He's just amazing, I love him to bits," she said.
"He makes you laugh all the time, it's not always serious when off duty. He's lovely and he has everything I want in a dog."