18 December 2020
Hurray and high-fives for our latest graduates.
We can't wait to see the wonderful achievements these graduates and their humans make together!
SEEING EYE DOG Orella MATCHED WITH Haley
SEEING EYE DOG Yogi MATCHED WITH Mitch
SEEING EYE DOG Ringo MATCHED WITH Roslyn
SEEING EYE DOG Oskar MATCHED WITH Nicole
SEEING EYE DOG Villi MATCHED WITH Chris
SEEING EYE DOG Hazel MATCHED WITH Bruce
SEEING EYE DOG Indiana MATCHED WITH Fred
SEEING EYE DOG Hani MATCHED WITH David
SEEING EYE DOG Holly MATCHED WITH Elly
SEEING EYE DOG Laura MATCHED WITH Eleni
SEEING EYE DOG Omar MATCHED WITH Stuart
SEEING EYE DOG Nellie MATCHED WITH Jennifer
SEEING EYE DOG Henry MATCHED WITH Steven
Ringo has given Roslyn new independence
"When I had a white cane, I wouldn't travel and go out much.
Once my friends walked off in a shopping centre and I was completely lost.
Since being matched with Ringo, we go everywhere together.
I look forward to being able to get to the beach, local markets, and camping.
I can now do all of the things I want to do either with friends or on my own."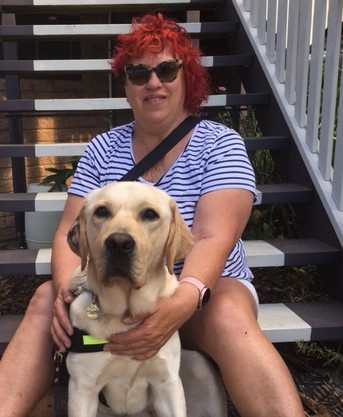 Hazel and Bruce
Look at little Hazel when she was a pup – such intelligent eyes, and so eager to please.
No wonder she has become such an amazing Seeing Eye Dog for Bruce.
And here's Hazel all grown up, helping Bruce live his best life!
The two are inseparable now, and Hazel's highly-trained expertise is opening up the world for Bruce.
These happy matches are thanks to you!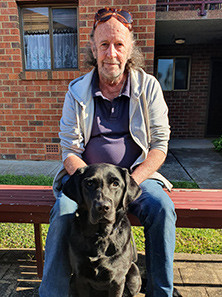 As a supporter of Seeing Eye Dogs you are helping to support the training and matching of more pups, creating more perfect matches.
You are changing the lives of Australians who are blind or have low vision so they can live the life they choose.
Thank you so much!