How does having a Seeing Eye Dog help a person who is blind or has low vision?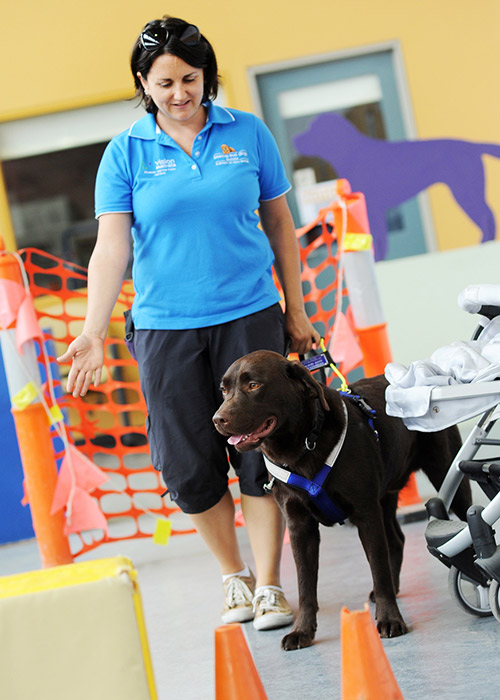 Seeing Eye Dogs enable Australians who are blind or have low vision to retain their independence and mobility.
A Seeing Eye Dog allows a person to move more quickly and navigate obstacles with much more reliability and safety.
How do I find out if having a Seeing Eye Dog is right for me?
The first step is to call us on 1800 03 77 73 or email [email protected]. An Instructor can speak with you and answer any questions you might have. We can also put you in touch with someone who already has a Seeing Eye Dog, so you can hear first-hand what working with a dog is really like. Contact us to be directed to the details of our support group.
You can be assured we'll answer all your questions or concerns simply and honestly at any stage of the selection process.
What does the formal assessment involve?
You will be asked to complete an application form and submit this to us. To request an application pack in your preferred format, you can call us on 1800 037 773 or email [email protected].
After we receive your application, we request you to undertake a medical examination to ensure you are healthy enough to care for a Seeing Eye Dog and you would not be putting yourself at risk.
After receiving a positive medical report, we then need to learn about you. We conduct fairly extensive interviews (usually around 90 minutes or so) to build a clear picture of your specific situation. This information will be vital later on, when we match you with a dog that will suit your needs and lifestyle.
We send out Instructors to assess where the dog will be spending time, including the locality - be it the city, suburbs or rural areas, your home and, if appropriate, your work or place of education. It's also the ideal opportunity to run a few practical tests involving a dog harness. These allow us to determine the size, speed and strength of the dog that would suit you best.
After you have been accepted for training, it is just a question of waiting for the right dog to become available. This can take between six and twelve months, depending on the availability of a trained dog that meets your specific needs.
When you have been successfully matched with your dog, you will progress to more formal training — either in your own home or at our residential training precinct.
Is every application successful?
If we do have to turn down an application for a Seeing Eye Dog, it is usually either because we believe the applicant would not benefit from having the dog or would not have the ability to take care of the dog.
Applicants who have some remaining useful sight sometimes find it difficult to allow a dog to guide them – this can undermine the purpose of the dog and make the relationship unworkable.
In other cases, the applicant may be suffering health problems which make a Seeing Eye Dog impractical, or only have a limited need to use a Seeing Eye Dog.
Assessors will refer applicants to other Vision Australia professionals for assistance.
Why is it such a long interview?
For the relationship between you and your Seeing Eye Dog to be truly successful, we need to ensure there's a compatible match. For example, if you're a slow walker and the dog is a fast walker, you may have difficulty handling the dog.
We need to know as much as we can about your life and your lifestyle to make sure we match you with the most appropriate dog. The interview is the main point of reference when we're trying to achieve this perfect match.
What expenses would I need to cover if I received a Seeing Eye Dog?
On graduation we will supply you with the equipment you require — lead, harness and dog bed, but you may wish to buy other items, such as toys for your dog. You are responsible for the cost of feeding and taking care of your dog.
We expect you to take your dog to your vet every six months and then send us the report.
What's involved in my training with a Seeing Eye Dog?
During training you will receive individual tuition from one of our expert Instructors. Training normally takes between three and four weeks, but we can discuss different options that suit your circumstances.
Training is at our residences located near our national world-class mobility and training centre in Melbourne, or at special state-based locations around Australia. In special circumstances we do offer the option of conducting training in your own home. We will discuss this with you and determine which arrangement is the best for you.
If I need to travel to undertake residential training, would I receive financial assistance?
Seeing Eye Dogs covers the cost of travel, accommodation and meals during your residential training.
What happens after my training?
After you return home with your dog, your Instructor will be in regular contact to make sure the new partnership is working effectively. An instructor will visit you at home soon after qualification to make sure you and your dog have become a team and have settled into working well together — they can also cover any routes with you.
During the first twelve months, your instructor will maintain regular phone contact with you and make between two and four visits. After that, we'll still check with you at least once every twelve months to make sure everything is still going smoothly. You are of course; welcome to contact us at any time.

In the event of an after-hours emergency, clients are provided with a support phone number they can call. The phone number is monitored by our expert veterinarians, Instructors and Puppy Development Trainers.
If I apply and I'm accepted, how long will I have to wait for a Seeing Eye Dog?
This can vary — some of our clients are lucky enough to be matched with a dog within six months of joining our waiting list. Some clients may need to wait up to twelve months for a suitable dog.
How long you have to wait depends on how many other applicants are on the list at that time, how many dogs we have available and whether any of these dogs will make a good match for you.
We are continually reviewing our processes to minimise the waiting periods.
What happens if I have problems with the service I've received?
If a problem should arise, we ask you to discuss this with your Instructor in the first instance. If this isn't resolved to your satisfaction, we would ask you to contact our Chief Instructor.
If you would like to remain anonymous, you can refer any issues to our Client Services Advisory Committee, which comprises independent Seeing Eye Dog and other Vision Australia Mobility users.
The Client Advisory Committee provides advice to management and a mechanism to review and comment on Seeing Eye Dogs Orientation and Mobility services policies, strategies and operations.
What's the difference between a Seeing Eye Dog and a guide dog?
Seeing Eye Dogs and Guide Dogs are two different names for dog guides trained to work with people who are blind or have low vision. In Australia, they are represented by Seeing Eye Dogs nationally and seven separate Guide Dog organisations.
Having more than a single provider of dog guides removes the restrictions that a monopoly could impose, especially in terms of exclusion from services due to eligibility criteria.
We operate on a national basis and focus exclusively on breeding, training and providing world-class dogs. Guide Dogs are separate state-based organisations.
What are the age limits for applying?
We don't have a specific age limit for applying for a Seeing Eye Dog. However, we do expect that you will be able to take sole responsibility for caring for your dog. For that reason, we usually wait until an applicant has turned 16 before matching them with a Seeing Eye Dog.
What breeds of dogs do you use?
We usually use Labradors and Golden Retrievers, as they typically have mild temperaments and can quickly adapt to new training. We have also achieved success by crossing the two breeds.
We are extremely demanding in relation to determining which dogs become Seeing Eye Dogs. All dogs are bred using specially selected breeding programs.
What does a Seeing Eye Dog actually do?
A Seeing Eye Dog is a mobility aid, trained to work with you, so you bond together to form a partnership. What the dog does is influenced by what the handler does.
Your dog can help you to navigate obstacles and stop you when you reach the edge of a road. It negotiates car and foot traffic, elevators, public transport, taxis and most everyday situations.
Handled correctly, it will ignore cats, loud noises and food. It will even know when to ignore your instructions, if following your order could possibly place you in danger.
Over time, your Seeing Eye Dog will come to learn your regular routines and use its own initiative to make your regular trips run smoothly.
What happens when a Seeing Eye Dog is "off-duty"?
While a Seeing Eye Dog is "off-duty," it becomes a pet and can enjoy life in the same way as any dog would.
However, we do expect good behaviour from the dog at all times to ensure that Seeing Eye Dogs continue to be welcome everywhere. A Seeing Eye Dog isn't allowed on furniture, shouldn't be given treats and shouldn't be allowed to become attached to any person other than the handler.
Who pays to breed and train Seeing Eye Dogs?
Seeing Eye Dogs receives very limited funding from the Government.  We also continue to rely on the goodwill and support of the community through puppy sponsorship, donations, partnerships such as The Petbarn Foundation, Greencross Vets, City Farmers and Royal Canin, and fundraising to breed and train Seeing Eye Dogs for people who are blind around Australia.
How do I apply or find out more?
For an informal discussion or if you wish to start the application process, please phone us on 1800 03 77 73 or (03) 9381 6400.  Alternatively you can contact us by email [email protected]