For current vacancies please visit 
Vision Australia's careers page here
.
More details on position at Seeing Eye Dogs are available below.
Careers with Seeing Eye Dogs
There are a number of working roles in Seeing Eye Dogs. For most of these there is always a lot of competition for places, and it is sometimes a useful idea to think about some volunteer work first to be as sure as possible that this is the career that you want. 
Most of our positions are based at our centre in Kensington, Melbourne, but we do have some staff in Western Australia and Queensland. All the training we provide to staff includes assessments, because we carry out practical work a lot of the assessments are also practical, but there are also examinations to test the supporting theory.
---
Kennel Attendants
The entry level is to work in kennels. Staff working in kennels are responsible for the health and welfare of our dogs. They work in a team, do shift work and weekend work may be involved. 
There is a training programme that is flexible and can take a period of months to complete; the timing may vary as some people work part time. 
Kennel staff can move on to different work in the organisation. This can include working in the breeding programme, which is a specialised part of the kennels.
---
Puppy Development Trainers
When one of our litter of pups reach about eight weeks of age, they will go to Puppy Carer volunteer homes where they remain until they are about 12-15 months of age when they will usually come in for training. 
The people that look after these pups and their volunteer carers are called Puppy Development Trainers. 
They recruit, motivate and manage the carers, as well as assess the pups and direct their training. Puppy Development Trainers need to know about the physical and emotional maturation of pups, the training needs of Seeing Eye Dogs, the recruitment process and dealing with volunteers in general, including the teaching of adults. 
The training we provide will usually take nine months to a year, depending on what the prior experience of the trainee is.
---
Seeing Eye Dog Instructors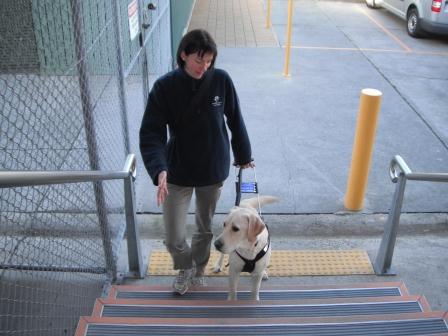 When the pups reach about 12-15 months of age and are ready to learn more, they will come in for professional advanced training. 
The formal training of a Seeing Eye Dog takes approximately 16 to 20 weeks and includes assessments to test the dog's ability at various points throughout the program.
Instructors also work with the clients, from the first process of assessment, the matching of the right dog with the right client, the training of the client to use the dog and the follow up service that we provide to all our clients. 
The instructor job is a complicated one which looks at both and client and dog training and client mobility needs and one that can be stressful at times. 
The training to become an Instructor takes about three and a half years. It covers all aspects of training a Seeing Eye Dog; topics relating to disability in general with a particular focus on sight loss; theories of orientation and mobility; and teaching of adults.
At present there are no mandatory academic qualification entry requirements, we do place an importance on the individuals' attitude and their previous experience in a related field. Some evidence of successful study may be recommended.