* Please note only submit an application for specific dogs advertised. We do not accept generic applications.
* You need to submit separate applications for each dog you are interested in.
* Adverts are removed once we have received enough interest to begin assessing suitability.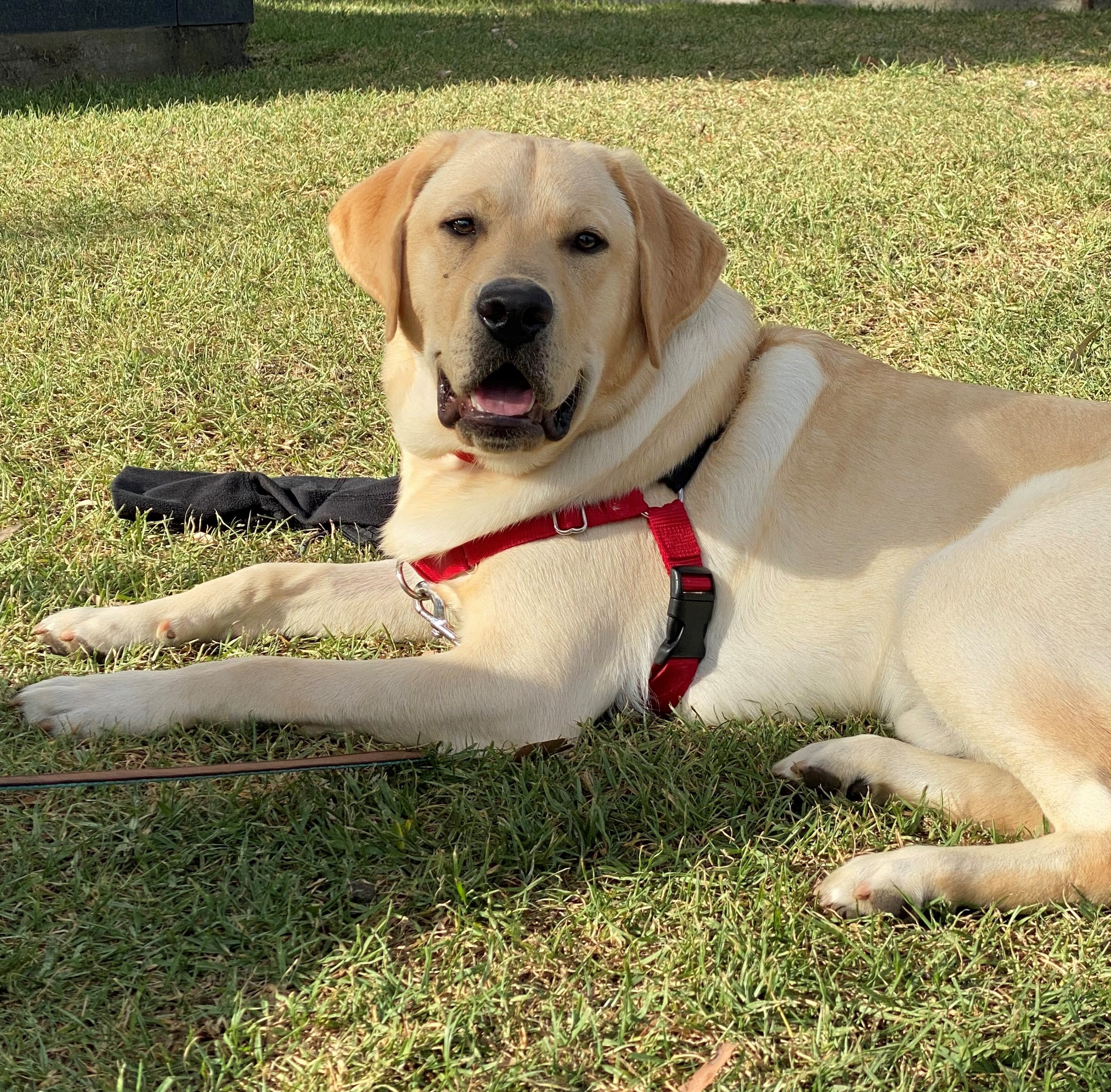 Name:

Sergo

Age:

10 mths  (DOB 17/7/2021)

Breed:

Labrador

Sex:

Male (desexed)

Colour:

Yellow

Bio:


Sergo is a handsome young boy who simply doesn't have the right temperament to be a Seeing Eye Dog. He finds it very hard to remain calm, settled and focused on his work, especially when under stress or around other dogs. It would be unfair to keep him in our strict training program as he is much better suited to the freedoms that pet life can give.

Sergo walks in a body harness and we highly recommend his new owner continues to use one. He is a strong boy who can get excited easily. He will bark and lunge, especially around other dogs, so a body harness will provide more control in these situations. 

Sergo is used to sleeping in a crate overnight and settles well in one or on a tether during the day. He is not used to being left alone, roaming free in the home and is a typical young Labrador who can be cheeky at times, getting up to mischief if given the opportunity. He has been known to steal items in an attempt to get you to chase and play with him. He can also get excited and jump up on the bed or couch. His crate will also provide a safe space for him to chill out in if he needs to be left alone for short periods of time, ensuring he stays out of trouble. We highly recommend his new owners continue to use a crate to help make the transition to his new life as a pet as smooth as possible.

Sergo is a happy boy who loves people. He can give off an alert bark when the doorbell rings or if he hears someone approaching the house but then becomes excited when greeting visitors, resulting in him forgetting his manners. He will attempt to jump up for attention and pats. He is still quite young and is a clever boy who is still learning. He will need a home that can provide clear boundaries and further training. A loving and patient owner who is experienced with dogs will no doubt help him grow into the best version of himself. 

Sergo loves a cuddle, especially up on the couch. He is used to being inside with the company of his humans and does not like to be left alone. For this reason we are looking for a home in which he will have lots of company. He has lived with teenage children, cats and another dog. He loves other dogs and his energy levels would match well to another young, active dog in a home that can provide lots of outlets for his desire to play. He would enjoy trips to enclosed dog parks, doggy play dates or time in doggy day-care.

If you think you can provide Sergo with his perfect forever home then please apply.

 

Sergo is available for adoption to applicants within driving distance of Kensington, Melbourne.

Price:

$3000
Have you thought about Puppy Caring?
You can care for a pup from 8 weeks up to 15 months of age, either full-time or a minimum of 6 months if a shorter time is more suitable for you. Apply now.