26 April 2021
When 14-year-old Brisbane boy Ollie Fanshawe met his Seeing Eye Dog Sadie – he knew the long wait had been worth it.
After years of preparation for the magic match up, Ollie is the youngest person in Australia to ever receive a Seeing Eye Dog with Vision Australia.
And his mother Melissa says the companion has changed the teenager's life forever.
But Ollie is one of a number of Australians who were stuck on Seeing Eye Dog waitlists as COVID-19 caused a halt in pairing and training dogs with their handlers.
Ollie was born legally blind and for as long as his mother can remember, he had wanted a Seeing Eye Dog of his own.
However, traditionally Seeing Eye Dogs have traditionally waited until clients were over the age 18 before pairing them with a dog.
So the family adopted a rescue Labrador and tasked Ollie with almost sole responsibility of feeding, walking and caring for the companion.
Melissa says he was "committed to the goal" of having a Seeing Eye Dog and to him it was never about age but readiness.
The day the family got the call from Vision Australia that Ollie had been matched with Seeing Eye Dog Sadie and they could fly to Melbourne to start training, she says his aura changed.
"He was indescribably excited and I know that he knew then the difference Sadie was going to make to his life."
She says the moment the pair met had been "so special."
"She came in, sniffed him and within 10 minutes you could tell she knew she had found her forever person in our boy."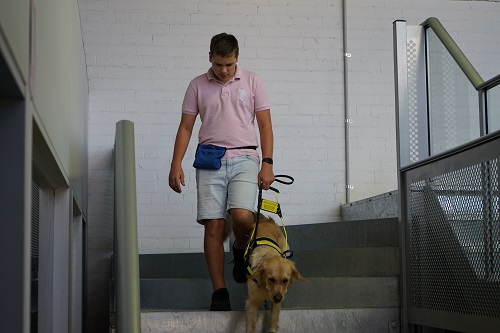 Caption: Ollie and Sadie training together at the Seeing Eye Dogs Indoor Mobility Training Centre.
Sadie had been with Ollie for two months now and Melissa says his mobility and quality of life has improved massively.
'Everyday Sadie prances along as if she is thinking this is what I have been trained for and I am going to do the best job I can do. They are a match made in heaven.'
Lester Chraim, Seeing Eye Dogs manager client services, says Ollie represents a 'change of thinking' around age and Seeing Eye Dogs.
"Being matched with a Seeing Eye Dog is quite exciting for our clients, but it's also a serious commitment to ensure the match is successful. In the past we have traditionally matched Seeing Eye Dogs with clients over the age of 18, but as we continue to evolve as an organisation, we're looking at expanding who we work with.
"Matching a Seeing Eye Dog with a handler comes down to a number of factors. Ollie has strong orientation and mobility skills and is committed to developing his skills as a dog handler and we're confident the match will be successful.
"Ollie and Sadie are an exciting match for Seeing Eye Dogs. By the time Ollie finishes school, he'll be an experienced Seeing Eye Dog handler which will provide added independence as he moves into further education or employment and we're excited about replicating that with other young people in the future."
Ollie and Sadie also represent Seeing Eye Dogs operations returning to normal after COVID-19. Border closures and other restrictions meant around 20 people were unable to be trained with their Seeing Eye Dog last year.
"COVID-19 made it extremely difficult for us to pair Seeing Eye Dogs with their handlers during 2020 and we were left with a significant backlog to work through as restrictions eased.
"As restrictions have eased since October, we've been pairing around four dogs a month as we work through those who were impacted and those who are also on our waiting list for a Seeing Eye Dog."
While Covid-19 impacted the pairing of Seeing Eye Dogs and their handlers, work to breed, develop and train future Seeing Eye Dogs was able to continue and we are now incredibly close to catching up on the work we had to pause, to make this a successful year despite enormous challenges.'