20 December 2017
It feels like Christmas has come early at Vision Australia's Seeing Eye Dogs' Melbourne headquarters, with a huge influx of puppies over December.
In the last month, five litters consisting of more than 30 puppies have been born at SED headquarters.
Meet all 31 of the new pups and mothers below and don't forget the puppies will soon need loving homes, so why not check out our puppy caring page and learn how you can help.
Vespa's litter: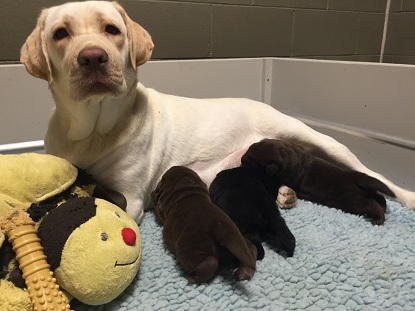 Vespa, a yellow labrador delivered three pups on 9 December who were sired by Scottie, a black lab.
This is Vespa's first litter and it consisted of two chocolate females and one black male who were delivered via c-section. Mother and pups are all doing well.
Mindy's litter: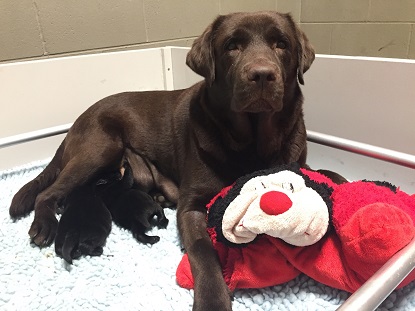 Chocolate labrador Mindy delivered two pups sired by black Labrador Dexter on 11 December.
Mindy's new litter of one black female and one black male are her first litter and were also delivered by c-section. Mindy needed some guidance at the beginning in terms of her mothering skills, however she is getting the hang of it now.
Hayley's litter: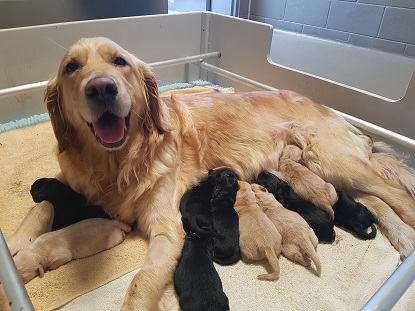 Yellow golden retriever Hayley did an amazing job, delivering 11 puppies all naturally on 15 December. The litter, sired by Iggy, a black lab, consists of four yellow females, one yellow male, two black females and four black males. Hayley is a natural and is doing a great job keeping all 11 pups clean and fed.
Skyla's litter: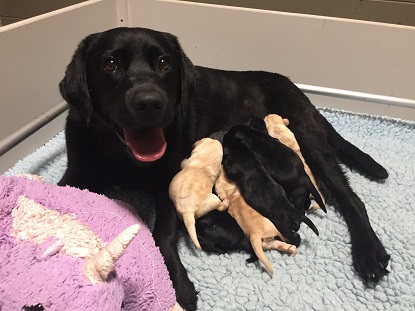 Skyla, a black Labrador, also delivered her litter of seven puppies naturally on 18 December. Sired by black lab Dexter, the litter consisted of one black male, three black females and three yellow females. Skyla is also a very experienced mother and is doing a great job nursing her pups.
Xanthe's litter: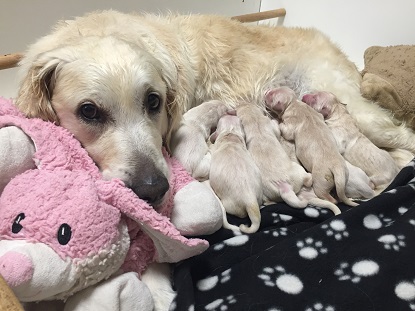 In what was her final litter, Xanthe, a yellow retriever, delivered nine puppies on 18 December. The litter, sired by Bruiser, a yellow lab from an outside stud, was made up of five yellow males and four yellow females. A very experienced mother, Xanthe is doing well with her pups.