24 October 2017
With Seeing Eye Dog Rowan by her side, young mother Melissa Danher always has the confidence to head out into the world.

Rowan, 8, has been Melissa's constant companion for almost seven years, a time of dramatic change for Melissa that included moving house and the birth of her daughter Jennifer, 2.
Melissa, 37, has had glaucoma since the age of nine.
She has lost all vision in her left eye and can perceive shadows in her right eye. She lives in Lilydale, in Melbourne's outer east, with Jennifer and her husband Michael.
Melissa says Rowan is a big part of her family.
"Rowan is a real gentleman. He's really gentle, and he likes to play when he's of harness. He's very protective of Jennifer, and he loves her," she says.
Rowan allows Melissa to remain independent and to do the things she enjoys doing.
"We like going shopping together. We get on the bus, or when he's off harness we take him to a park and play ball, and we take him to Jennifer's playgroup. The kids love him. And he takes me to church as well," Melissa says.
"I'm grateful for Rowan all the time. He's a really good companion for me.
"He's helped me through dangerous situations like making sure I don't cross the road when I'm not meant to, or getting on the train, or else I wouldn't know where I was going."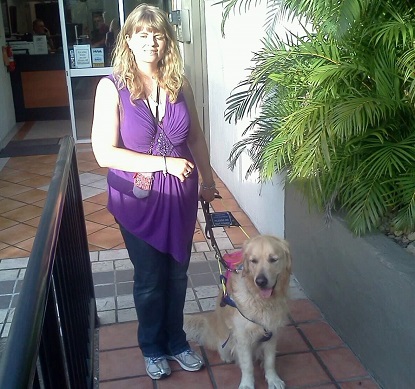 Melissa is a qualified teacher's aide, and worked in a voluntary capacity at a primary school before Jennifer was born.
In a few years, Rowan will walk beside her as she enters the workforce.
"I loved it! I really miss it actually. When Jennifer goes to school, I'll go and get employment in a primary school," she says.
Rowan is not Melissa's first Seeing Eye Dog. Her first, Safari, is now 14 and retired, but Melissa says he's living the dream.
"He's living on a six-acre property now, so he's really living. He's doing pretty well. He's slowing right down and he has dementia now but it's beautiful up there. He's living in a good spot."
Without Rowan or Safari before him, Melissa says struggled to get around using a long white cane.
"I'm hopeless with the cane. I found I have a lot of trouble with it. You can't talk to the cane, and I find I get to places faster with Rowan, and it's less stressful," she says.
Melissa says people need to remember when they are around Seeing Eye Dogs.
"People shouldn't pat a Seeing Eye Dog while they're working because it distracts them," she says.
"And with their own dogs, don't let them off the lead and have them running around so that they distract our dog."