30 March 2017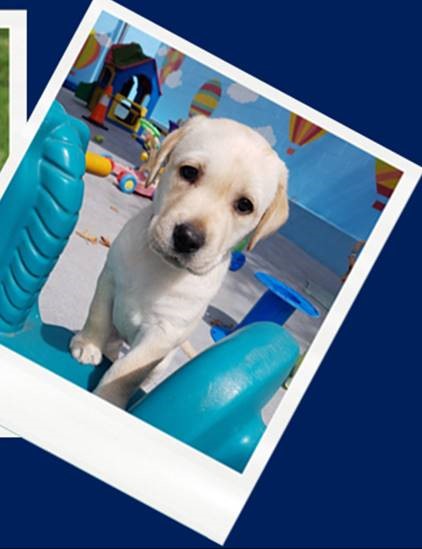 Share your favourite Seeing Eye Dog photo with us for a chance to win a $200 voucher and be featured in the 2018 Seeing Eye Dog Calendar.
Enter a photo of your beloved Seeing Eye Dog pup, dog in training, foster care dog, working dog, breeding dog, released dog or retired Seeing Eye Dog. Competition opens 30th March and entries close 15th April 2017.
How to enter

Send your photo with a short description (details of the dog and details of the carer, client or owner) to erin.mcdonald@visionaustralia.org
A shortlist of the top photos will be selected by a 'Seeing Eye Dog Panel' and shared on Facebook from 17th – 24th April 2017. The photo that receives the most 'likes' during this time will be the winner.

Seeing Eye Dog Calendar
This popular large print calendar raises much needed funds to support Seeing Eye Dogs and the work we do to provide confidence and independence to people who are blind or have low vision. The photo that is selected to appear in the calendar will be accompanied by details of the specific dog and its carer, client or owner.
Full terms and conditions
All photos must be submitted by 5pm on the 15th April 2017
All photos must be submitted by the photographer or with written permission from the photographer
All entrants acknowledge that any photos entered into the competition become property of Seeing Eye Dogs and may appear in the 2018 Calendar or used for future marketing/advertising purposes
The photos will be judged by a 'Seeing Eye Dogs Team Panel' and a shortlist of finalists will be posted on Facebook for the public to vote (Like). The photo receiving the most likes within the given timeframe will be the winner and appear in the 2018 Seeing Eye Dogs Calendar. The panel will be judging on creativity and cuteness
Seeing Eye Dogs reserves the right to final decision and discretion on the photo chosen to feature in the calendar
The winner will be contacted by email on 25th April 2017 and announced via Facebook
Multiple entries are permitted
All entries must be able to be printed as high resolution (minimum 300 dpi)
All entries will need to include a brief description along with each photo