06 May 2013
Raising a puppy isn't always an easy task, but Samara Mansbridge has accepted the challenge to help make a difference in someone's life.
The Brooklyn resident is a puppy carer with Seeing Eye Dogs Australia (SEDA), a not-for-profit organisation that is the only national trainer and provider of guide dogs for the blind or vision impaired of Australia.
"It was something I always wanted to do. It was just something I thought about for a long time and I felt that I had the time to put the effort in towards it now," Ms Mansbridge said.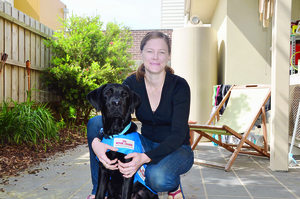 "I always wanted to do something like this and give back to the community. Because I am a vet nurse, I have a fairly good basis of training it was something I thought I could do really well."
She is now looking after playful pup Truman, who will grow up to be a loyal and trusted friend for someone in need.
Ms Mansbridge said it would be sad to see Truman leave for his new family, but knew he would go on to bigger and better things.
"You always have at the back of your mind 'this isn't my dog' and you always got to remember that he is going to somebody else that needs him more than you ever will," she said.
Ms Mansbridge said becoming a puppy carer was a rewarding experience and encouraged other dog-lovers to get involved.
"I think everybody would be able to do it, and I guess it is about ensuring you have the time to be able to take them to certain places and be able to train them," she said.
"You do need to spend a little bit of time each day training them and making sure it is done the correct way."
With a year-long waiting list for guide dogs in Australia, SEDA is calling for more puppy carers to support their growing breeding program.
For more information or to become a puppy carer call SEDA on 1800 037 733.
Source: Start Community