11 October 2023
After being matched together in February 2023, Michelle and Seeing Eye Dog Mirla have become "inseparable" over the past eight months.
A white cane user before Mirla came along, Michelle said the past eight months have seen her increase her confidence and ability to get out and about.
"Mirla just brings a lot of joy to my life. She's like she's my child and all the grandkids love her as well and she definitely brings some companionship," Michelle said.
"Most importantly she's enriched my life. I've developed so much more confidence to get out and about in the community and she gives me a whole lot more independence in that respect.
"I'm able to go out and navigate shopping centres and take public transport and take walk around my neighbourhood, and that was something that I wasn't doing even as a cane user."
A long-time cane user, Michelle said she noticed a deterioration in her vision that prompted her to apply for a Seeing Eye Dog.
"I noticed my vision was starting to deteriorate and I was more hesitant to leave the house and travel independently. I just I had it had to think about it and had a chat to the Seeing Eye Dogs team and I could see the advantages a Seeing eye Dog would bring to my life.
"Once I had a trial with Mirla it just felt like the right fit for me and the next step in my vision journey. I just have this level of safety that I feel with her that I didn't feel as a cane user.
"When you're using a cane all of the responsibility is on you, but with Mirla I'm able to relax a little more because I know she's there to help me."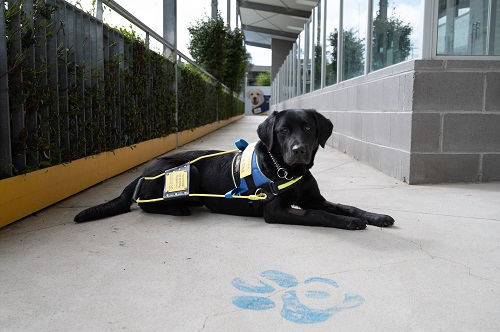 Caption: Mirla has proven to be the perfect companion
As well as helping Michelle to be more confident in navigating her environment, Mirla is also a bit of an icebreaker when the pair are out and about.
"I think other people definitely have a different reaction when you're with a Seeing Eye Dog compared to using a mobility cane. It definitely does open up a bit more social interaction when people see her.
"There are some people who can't help themselves and don't approach you in the right way and understand that she's working, but I think more and more people these days understand what a Seeing Eye Dog is and why they shouldn't try to pat them or anything like that."
While Mirla knows when she's working, she also enjoys her downtime.
"She's very playful when she's not working and she loves her toys, though I can't tell you how many she' gone through because she's a chewer.
"She loves to play and run around, as well as lots and lots of cuddles."
While Mirla is no doubt special to Michelle, she's also special to the entire Seeing Eye Dogs family as one of a select few pups whose name was chosen to celebrate NAIDOC Week in 2021.
"It's certainly a special name for her," Michelle said.