05 September 2022
On this week's episode of the Seeing Eye Dogs Show, Harriet catches up with Seeing Eye Dog handler Jen Nickols.
Jen is in the midst of training for a fundraising trek through the Bay of Fires, and training alongside her is her Seeing Eye Dog, Nellie.
While the Bay of Fires, a rugged track through some pristine Tasmanian wilderness, is a bit different to their usual environments, Jen has no worries about Nellie being able to navigate it.
According to Jen, Nellie's a dog that's willing to give anything a try.
"There's nothing she's scared of," she said.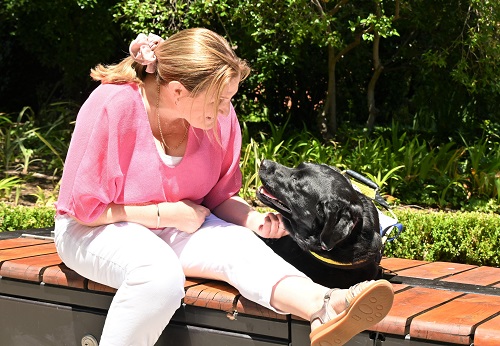 Caption: Jen and Nellie are ready for what the Bay of Fires holds. 
Jen and Nellie's trek through Tasmania is part of a fundraising activity for Seeing Eye Dogs.
Because Seeing Eye Dogs have had such a positive impact in Jen's life, the cause is one that is very close to her heart.
You can learn more about Jen and Nellie's Bay of Fires Adventure on their fundraising page.
You can listen to the full interview on Omny or on the player below: