15 July 2021
These happy matches are thanks to you! Because of your kindness and generosity, these clever pups have now graduated as Seeing Eye Dogs and are ready to change their new handlers (aka mum and dad's) life.
SEEING EYE DOG Annika MATCHED WITH Anne
SEEING EYE DOG Windsor MATCHED WITH Monika
SEEING EYE DOG Zola MATCHED WITH Michael
SEEING EYE DOG Zoli MATCHED WITH Matt
SEEING EYE DOG Lightie MATCHED WITH Marion
SEEING EYE DOG Wattle MATCHED WITH Andrea
SEEING EYE DOG Isha MATCHED WITH Esther
SEEING EYE DOG Vito MATCHED WITH Joan
SEEING EYE DOG Hector-M MATCHED WITH Lynn
SEEING EYE DOG Buffy MATCHED WITH Lisa
SEEING EYE DOG Kirree MATCHED WITH Thanh
SEEING EYE DOG Felix MATCHED WITH Leeann
SEEING EYE DOG Parker-H MATCHED WITH Catherine
SEEING EYE DOG Sparky MATCHED WITH Warwick
SEEING EYE DOG Otis MATCHED WITH Fernanda
SEEING EYE DOG Sherlock MATCHED WITH Sharon
SEEING EYE DOG Questa MATCHED WITH Francois
SEEING EYE DOG Pippin MATCHED WITH Margaret
SEEING EYE DOG Pluto MATCHED WITH Annalyse
SEEING EYE DOG Spike MATCHED WITH Alan
SEEING EYE DOG Yoli MATCHED WITH Beronelle
SEEING EYE DOG Ulrick MATCHED WITH Narrelle
SEEING EYE DOG Henry MATCHED WITH Steve
Esther and Isha – matched 2020
It can be a very lonely place being blind and having a Seeing Eye Dog fills the gap.
I call Isha my little pocket rocket. Isha loves her soft toys. She is so funny she makes a grunting sound when she wants your attention. She almost sounds like a tennis player.
I'm crazy about her and also AFL. Isha and I now go to games together and she even has a special allocated seat at the Gabba.
She gives me a lot of love and provides me with independence.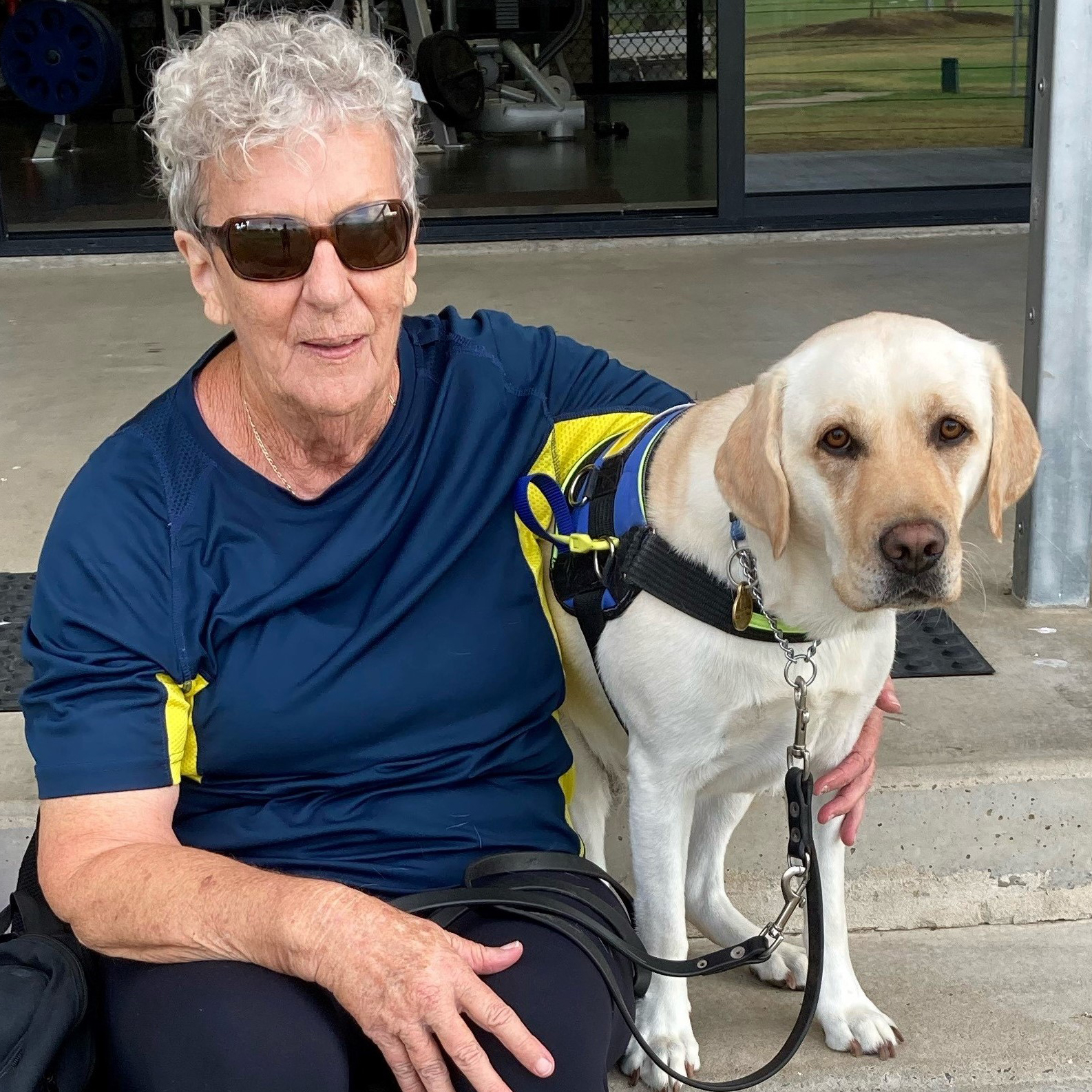 Libby and Buffy – matched 2020
My previous Seeing Eye Dog, Quinn retired three years ago and lived with us until he passed in April (he was 15). It was really hard.
I stopped going out, I stopped being active.
Now with Buffy, I'm active, I'm confident and I have a sense of freedom back again. Buffy is very sweet and cheeky.
At home she loves picking up my son's socks as he doesn't always put them in the laundry.
We call her Buffy 'the obstacle slayer'.
Buffy has lightened my life and given me back my confidence.