18 May 2020
At Vision Australia Seeing Eye Dogs, our amazing volunteers play a vital role in us being able to efficiently and effectively support our clients.  Behind the scenes, they do the work that you might not associate with producing Seeing Eye Dogs.
We're shining a light on some of these unsung heroes for National Volunteer Week.
Over the week, you'll meet a number of our amazing volunteers and learn all about the work they do.
Today you're going to meet Chris who works with the maintenance team, and Emilia who volunteers her time as a driver.
As a maintenance volunteer, Chris compares himself to a janitor, but not in the way you expect.
"I don't do any of the things you associate with janitorial work," Chris said.
"It's much more constructive and hands on. I help make obstacle courses for the dogs to train on, as well as helping to repair harnesses, leads, and any other odds and ends including gardening and other manual labour."
Chris has just passed three years volunteering at Seeing Eye Dogs, and he recalls first stumbling across a shout out for volunteers and initially signed up as a driver.
"I was looking for some volunteer work and it was the first thing that popped up  
"I thought driving the dogs around sounded awesome. I guess I signed up for the experience and I'd get and it sounded fun."
Chris is a bit of a joker on the team, and this came across when we asked him why he has stuck around for so long.
"The work is evenly split between looking at puppies and toning my legs, what's not to love? Gotta get that definition in the quads and the calves, everyone loves a bit of leg."
Chris's time at Seeing Eye Dogs has ignited his passion for volunteering and he's already thinking about additional opportunities. "I've been looking at forest conservation and reforesting a bit lately. Later in my life I wouldn't mind trying my hand at some social work."
Chris also shared his advice for anyone who is currently on the fence about volunteering, and why he thinks they should take the plunge.
"It's worth it for the experience of trying new things, that's one of the key benefits from any job, but without the hassle that comes with it being a job. I feel I can contribute with my time instead of money."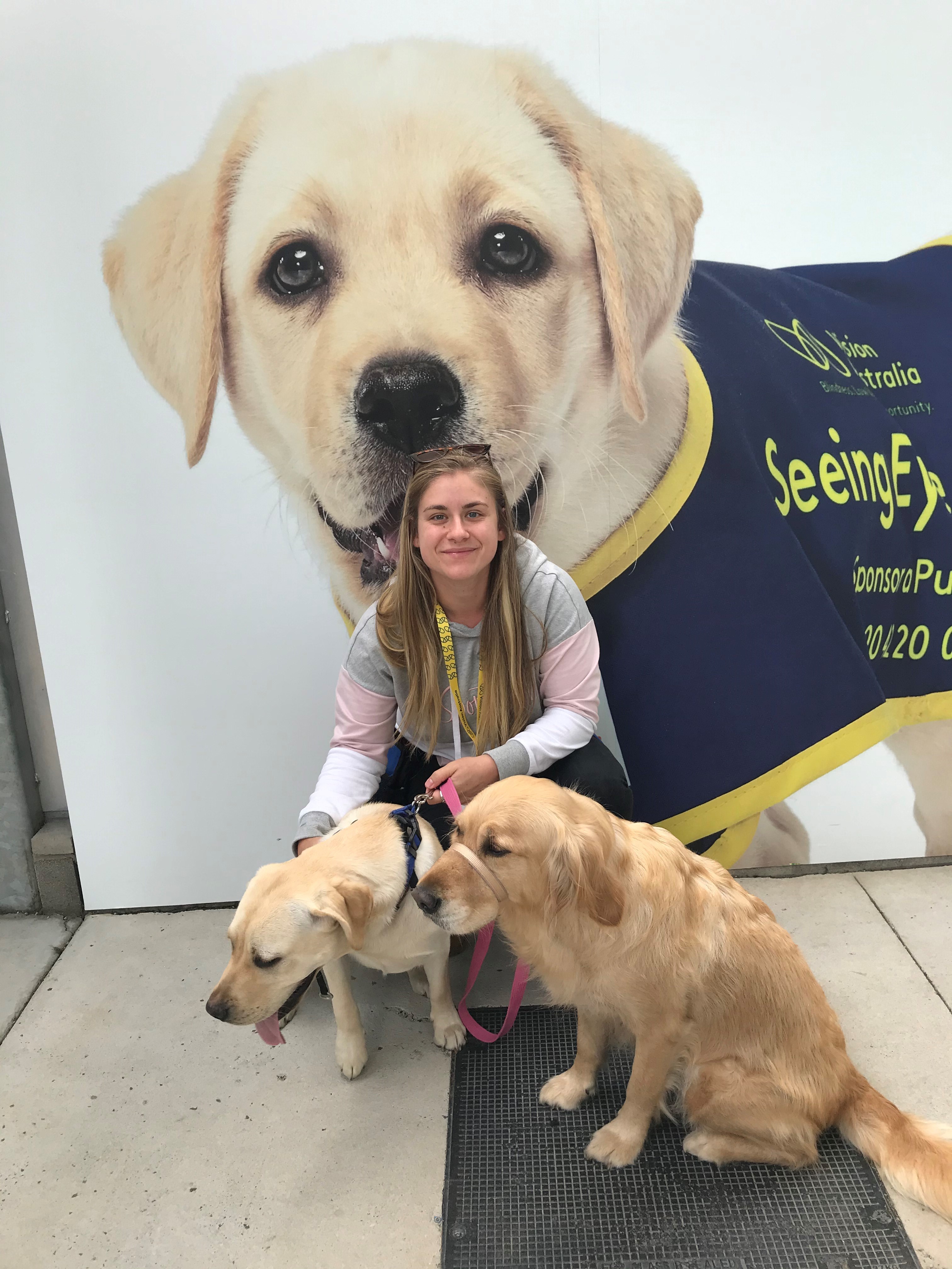 Emilia, who volunteers for us as a driver, picks up and drops off dogs that are coming into our Kensington location for training. She compares her work here to the school run that parents do for their children.
"I like to explain it as picking up the doggo from school to back home, or vice versa, that's the fun part. It's a bit more playful if I think of it that way," she said.
Emilia has currently spent around a year volunteering with Seeing Eye Dogs. But what made her want to sign up with us in the first place?
"I never know which organisation to donate money to. I'm always sceptical, I want to do well in the community so I donate my time and can see results that way."
"I don't have a dog so it's a good chance for me to hang out with some dogs and to give back to the community."
Emilia has a long history with volunteering, dating back to when she was a child.
"I first volunteered as Collingwood Children's farm as a kid every weekend, my mum would drop me off in the morning and I would be cleaning out the pig pens, feeding the chooks, rubbing down the horses."
"My mum said I would smell like a barn when I got home, but I was so happy to have helped."
It's that difference that she gets to make that keeps Emilia coming back for more.
"Experience and being with the community is what keeps me coming back. It's not about money. I can hang with people or animals and enjoy my time. It's not oriented to the dollar sign."
Emilia shared some parting words with us for people who might be on the fence about volunteering.
"I would tell them to research a couple, and then write down the pros and cons of each. Do your research before diving in.
"It's a lot of time, energy and money for the organisation if you just do the intro course and never go back. If you're on the fence, research, see who you're interested in and make a decision so everyone benefits."