05 February 2019
Vision Australia's Seeing Eye Dogs Puppy Development Manager, Jane Bradley, recently had the opportunity to realise some of her biggest dreams – to meet Veteran Matt Brumby, to work with new PTSD assistance dogs and, to see Prince Harry and Megan Markle! 
Yes, you guessed it, she attended the Invictus Games in Sydney in October, to volunteer for the team at Integra Service Dogs Australia (ISDA).
ISDA works with Veterans and First Responders and their families suffering from Post-Traumatic Stress Disorder (PTSD), by enriching lives through highly trained canine guardians. They were the organisation appointed to provide assistance dogs for some of the international participants of the Invictus Games, which were held in Sydney last year.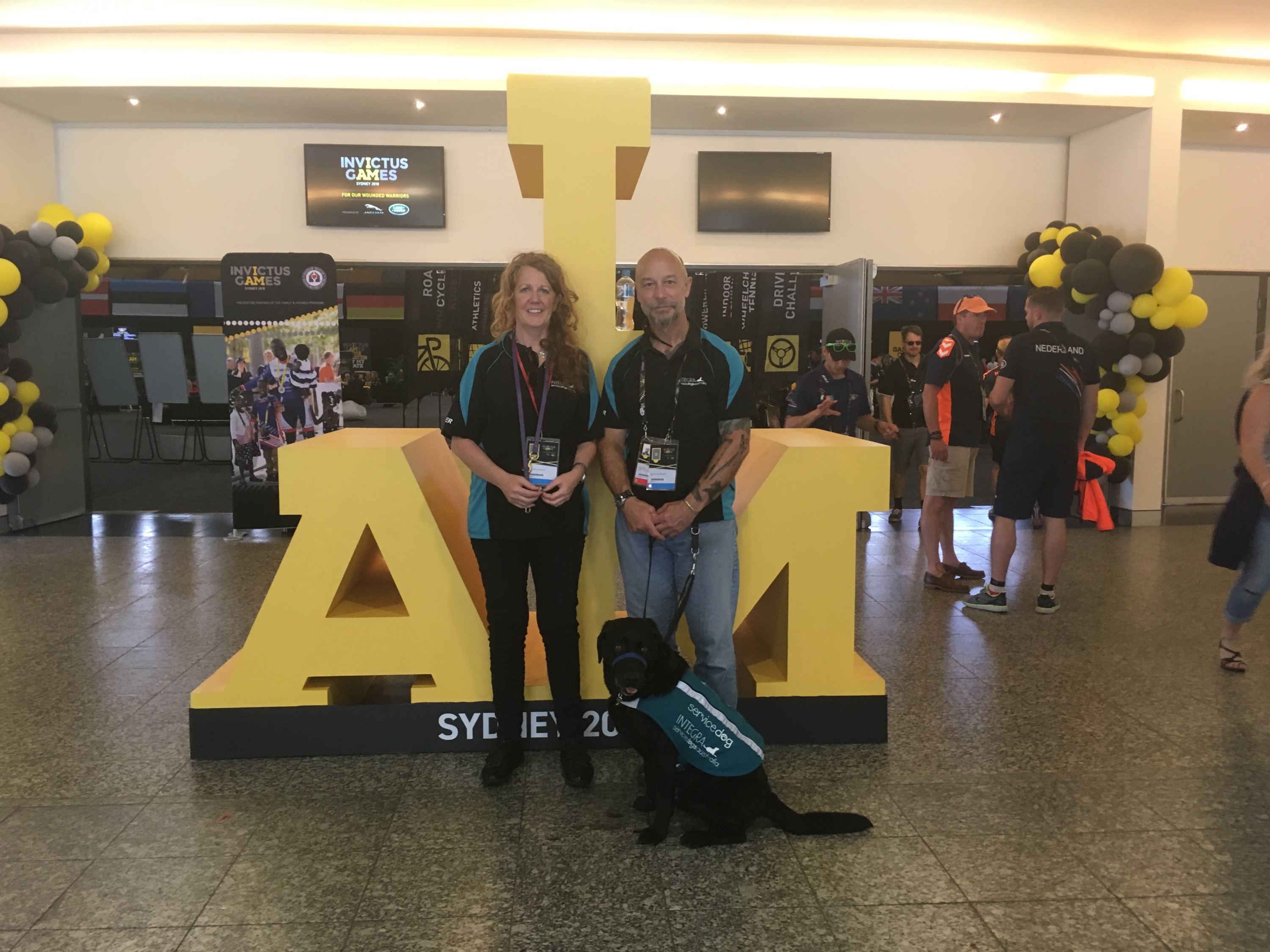 Image shows Jane Bradley and Ken Lloyd, founder of IDSA, standing in front of a model at the Invictus Games with Ken's black service dog Jaeger.
Jane's working relationship with ISDA goes back three years. In that time she has used the knowledge gained during her extensive career with the International Guide Dog Federation to assist them with developing and growing various programs, that ultimately paved the way for the ISDA to become a fully registered Australian Assistance dog provider.
Jane is thrilled to have been able to be a part of the Invictus Games. "It was a dream that came to reality for me," Jane says.  "Not only was I surrounded by incredibly inspiring people, I also had the chance to work with released Seeing Eye Dog Dido!"
Dido was released from the Seeing Eye Dogs program in September, but we knew that there was still more that she could do.  Jane reached out to ISDA who immediately took Dido in as a trainee assistance dog, and in October she was named as one of the 12 ISDA dogs to attend the Invictus Games!
If the name Dido seems familiar to you that may be because she became somewhat of a celebrity herself, appearing on several news websites, and even snagged a hug with Prince Harry! https://www.news.com.au/lifestyle/real-life/good-news/integra-service-dogs-australia-provide-support-to-veterans-suffering-from-ptsd/news-story/a71bf5d8c592cdedcd452b63e9852885
ISDA only recruits the highest quality, most temperamentally suitable Labrador dogs into its program. That's why dogs such as those released from Seeing Eye Dogs are highly suitable. 
"Our dogs are exceptional, with strong levels of public acceptability and high levels of socialisation and training," says Jane.  "This means that they can immediately commence work with a Veteran or First Responder as a trainee assistance dog."
While ISDA may have only launched in 2016, they have already managed to place 26 dogs across five Australian states and territories, and that number has nowhere to go but up. Through their exposure at events like the Invictus Games, and work with organisations like ADF Veterans and Ex-Servicemen's Organisations, ISDA will continue to provide this service for many years to come.
Under Jane's supervision, we are delighted to confirm that Vision Australia Seeing Eye Dogs will continue its relationship with ISDA into the future so that more amazing dogs like Dido have the chance to represent the great work of our incredible carers, expert staff and volunteers.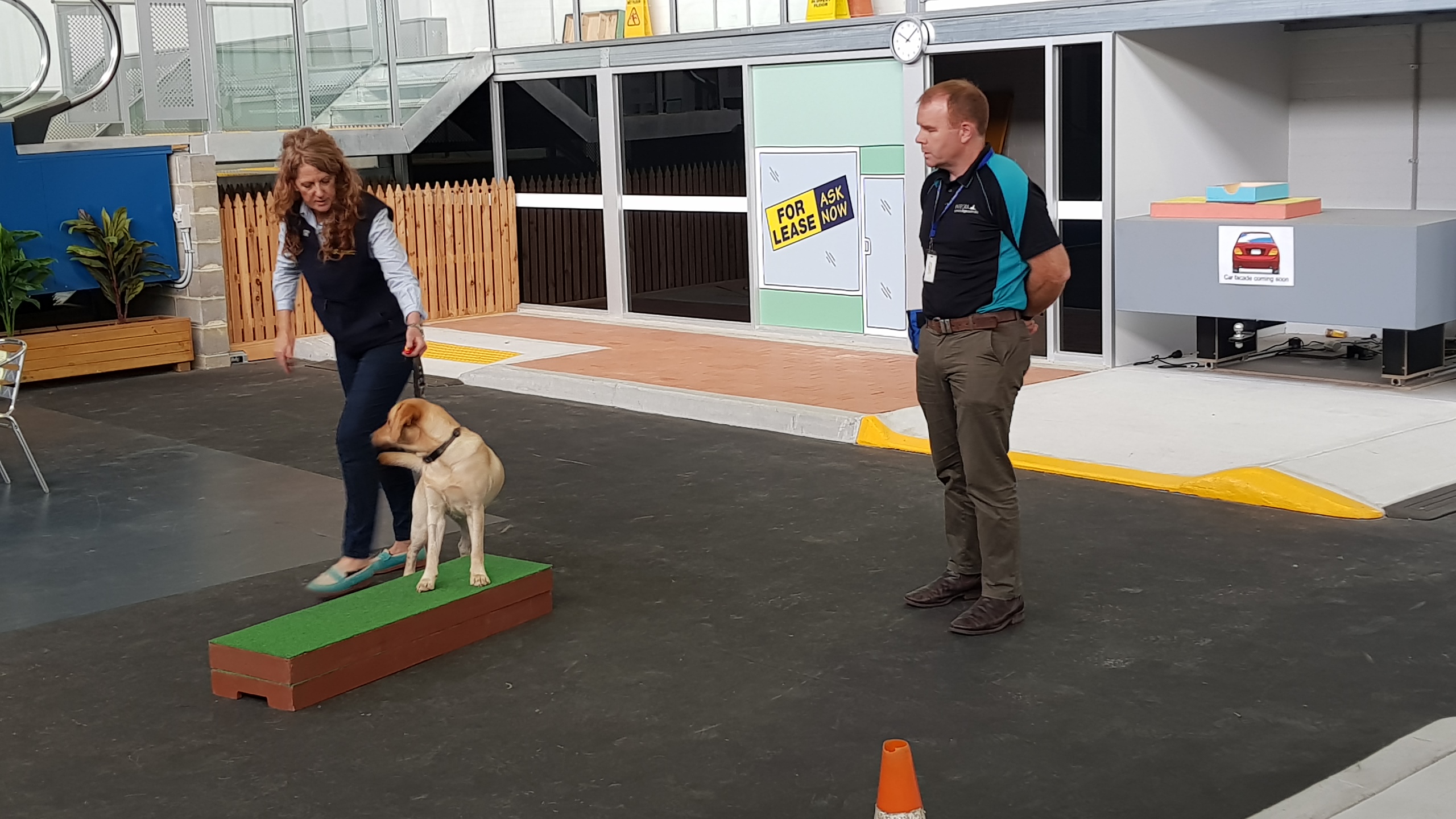 Image shows: SED Puppy Development Manager Jane Bradley with Ben Johnson, CEO of Integra working with Seeing Eye Dog Rumer in the world-class Mobility Training Centre.