14 August 2013
Hello, I'm Connex. "Funny name!" you might say. Well, until about four years ago, the public transport provider in Melbourne was Connex and that company kindly sponsored my development to being a Seeing Eye Dog. The least I could do was take their name. Anyway, now to the little story I would like to tell you.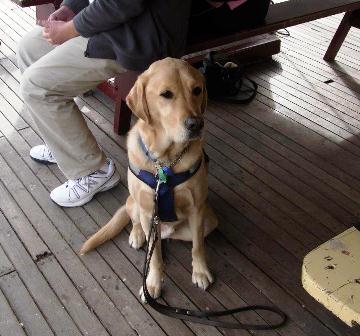 My mum, who people know as Vicki, spent the weekend recently with some friends in Echuca and Moama, up on the Murray River. I like helping mum to participate in every part of life she chooses. So, I was pleased that she and her friends went on a paddle steamer trip for lunch at a nearby winery. That's what you do in that part of the world on a miserable mid-winter Saturday afternoon. Anyway, we went on to the boat and that was all very straightforward. We decided to stay on the top level, because downstairs inside would have meant going down a very steep ladder thing. Well, we got to our destination and shock horror! We had to get off via the other side and the only way was to go down this ladder thing. Our friends tentatively descended, backwards. They looked a bit awkward. There were Mum and I at the top. She wasn't sure what I could do. To my embarrassment but between you and me, my relief, a helpful man who must be fairly strong, lifted me up and went down the ladder with me in his arms. What a relief to everyone that I was down. Though I was grateful, I promised myself that I would never again be humiliated like this. I felt so silly. A proud working Seeing Eye Dog being carried down a silly ladder.
Well, they enjoyed their lunch and I wasn't too bored. Mum removed my harness for a short time so all the fans could give me a little pat. Just one of the things a dog has to put up with. Anyway, after a long wait in the cold because the returning boat was late, we finally boarded. "What about the ladder?" Well, we ignored it and stayed downstairs. It was warmer in there now as the sun had knocked off for the day. We returned to Echuca Port and that was uneventful. But, now the dilemma for Mum and her friends. We all had to get back up this bloody ladder. Well, there stood Mum and me at the base. You should have seen the look on Mum's face as she stood there holding my lead trying to seem relaxed as she waited for a strong gentleman to turn up. I had other ideas. A dog has his pride you know. I faced the ladder. Jumped a couple of rungs and without hesitation, steadily ascended each step. As I reached the top, rapturous applause broke out. "That's better," I'm being recognised for what I can do. Sorry there are no photos, but it all happened so quickly that we didn't have time to get organised.
To any young dogs reading this, can I say to you that it's a great life as a Seeing Eye Dog. We help our partner participate in every part of life they choose and in so doing, go to very interesting places and meet many nice people.