Pebbles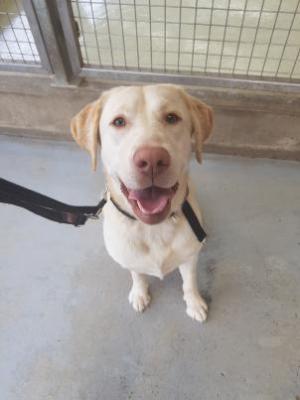 Name: Pebbles
Age: 1 year (DOB 14/6/18)
Breed: Labrador
Sex: Female
Colour: Yellow
Pebbles is naturally excitable in nature. Along with her excitable nature she can sometimes be unsure of strangers which has resulted in her avoiding them or barking. This unfortunately makes her unsuitable for guiding work.
Pebbles would however make a lovely, fun pet. She is a high energy girl who is very clever and loves to learn. She would be the perfect fit for an active family.
Her enthusiasm for life does mean that she can become excited when greeting people. She can also be cheeky in the home and steal items if left unsupervised.
She is still quite young though so will benefit from ongoing obedience training, clear boundaries and a patient and loving family. This will help keep her mind busy, improve focus on her handler and settle her excitement levels.
Pebbles loves to play with other dogs but she would be best suited to a household with an older, sensible dog that can handle her energy levels and act as a calming influence.
Pebbles has not lived with children however could be a great mate for a game of fetch. Due to her energy levels she would be best suited to a home with teenage children or adults.
Pebbles is available for adoption to Victorian applicants only and within driving distance of Kensington, Melbourne.
Price: $2500