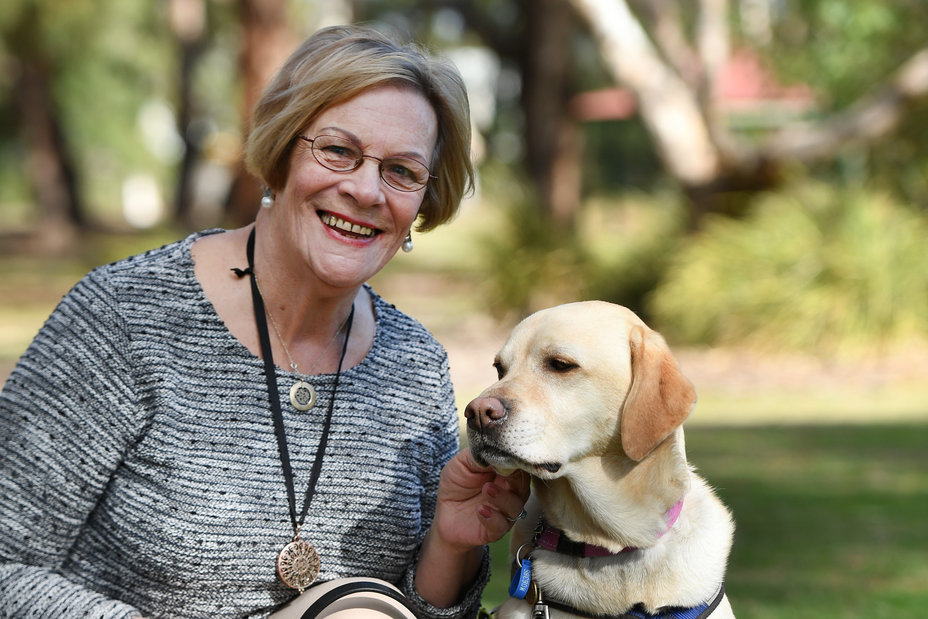 We all like to be useful and to feel needed. It helps us feel good about ourselves and it makes our lives worthwhile.
However, when Denise lost most of her vision in her mid-fifties, she said she became withdrawn and depressed, 'All my life, I'd been the helper, it was just so hard. I seriously thought it was the end of my world.'  Suddenly, she felt she could no longer travel, continue to work or be the fun-loving, dependable grandmother she'd once been.
But then a beautiful Seeing Eye Dog called Bella came along, and brought back the joy and independence Denise thought she'd lost.
A Seeing Eye Dog can make all the difference to people like Denise, and right now, there are gorgeous puppies in our Puppy Centre who one day could be perfect for the job. What's missing is the $50,000 needed to care for and train each one of them.
Help turn our eager little puppies into Seeing Eye Dogs like Bella – and in doing so, you can help change the lives of people who are blind or have low vision.
When you see Bella and Denise together, you can see why there is the need for the highly specialised training a Seeing Eye Dog must go through.
Denise has almost no vision, so she trusts Bella with her safety. Bella helps find her a seat at the footy where they are able to weave through enormous, noisy stadiums packed with rowdy fans. Together, they navigate stairs, elevators, aeroplanes and trains with confidence.
These holidays, Denise will be spending time with her family and friends. Those difficult days of isolation and fear are long gone. Instead, Denise is back living life to the fullest and enjoying her family, thanks to a very special four-legged partner called Bella.
Please Donate today and help turn more puppies into gorgeous, loyal, life-changing Seeing Eye Dogs like Bella.