People often ask "What can a Seeing Eye Dog do?" A better question might be: "What can't they do?"
Let me tell you about the amazing Goldie and her special human, Jenny.
When she was a little girl, Jenny had almost perfect vision, but due to a hereditary condition, her optic nerves started to die. As her vision got worse she was told by her father never to tell anyone that she couldn't see properly. Jenny said,
"I was terribly shy and made to feel ashamed of my condition. I was terrified of someone finding out."
Jenny's vision continued to deteriorate over time and became really bad about six years ago. When her husband sadly passed away, she had to learn to manage on her own with very limited sight. Life became very tough for Jenny, until she was matched with Goldie.
Goldie, her adored Seeing Eye Dog is a wonderful companion and helped Jenny regain her confidence and independence. As Jenny told us:
"I just love my Goldie to bits.
I would probably fall down a hole if I walked out without Goldie. It's the trust and the safety I feel. I have no hesitation – if Goldie stops, I stop. It's having her here and being able to go anywhere I want with her. She is amazing."
Thanks to your generosity – and the generosity of supporters like you – Goldie was able to be cared for from birth and supported right through specialised training to finally graduate and be matched with Jenny as a fully trained Seeing Eye Dog.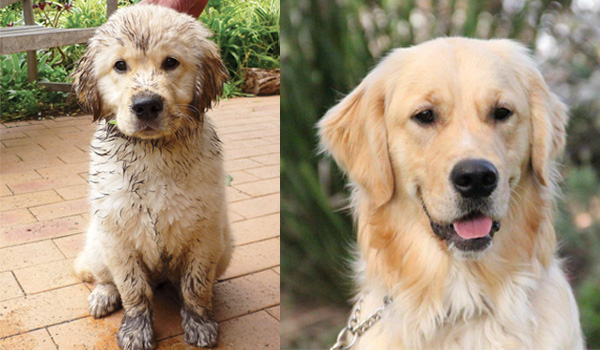 You helped turn Goldie from a muddy fluff ball into a Seeing Eye Dog Superstar
Caring for and training each puppy to become a Seeing Eye Dog like Goldie costs $50,000, takes up to two years, and involves the dedication of all our volunteers and specialist staff.
It's hard work and every one of our pups has to be cared for and trained to the highest standard.
Because when someone is matched with a Seeing Eye Dog they need to be able to trust their dog with their life.
By the time pups are ready to graduate as a Seeing Eye Dog, every dog must be able to perform 17 specialised commands. They must be able to guide their trainer and keep them clear of obstacles that could hurt them. They must be the best of the best.
Once they graduate, each dog will go on to have a new home and become a life-long companion as a Seeing Eye Dog to someone who is blind or has low vision.
And with extra training from Jenny, Goldie has learnt to do even more:
"Goldie is like my personal GPS system, helping me find the gym, the bank, the bus stop and even my hairdresser. She has an amazing ability to remember the route after going there once.
She can also locate up to twelve items in my local supermarket by name such as eggs and greens, she can find the line up at the counter and she even knows not to push in. She really is incredible."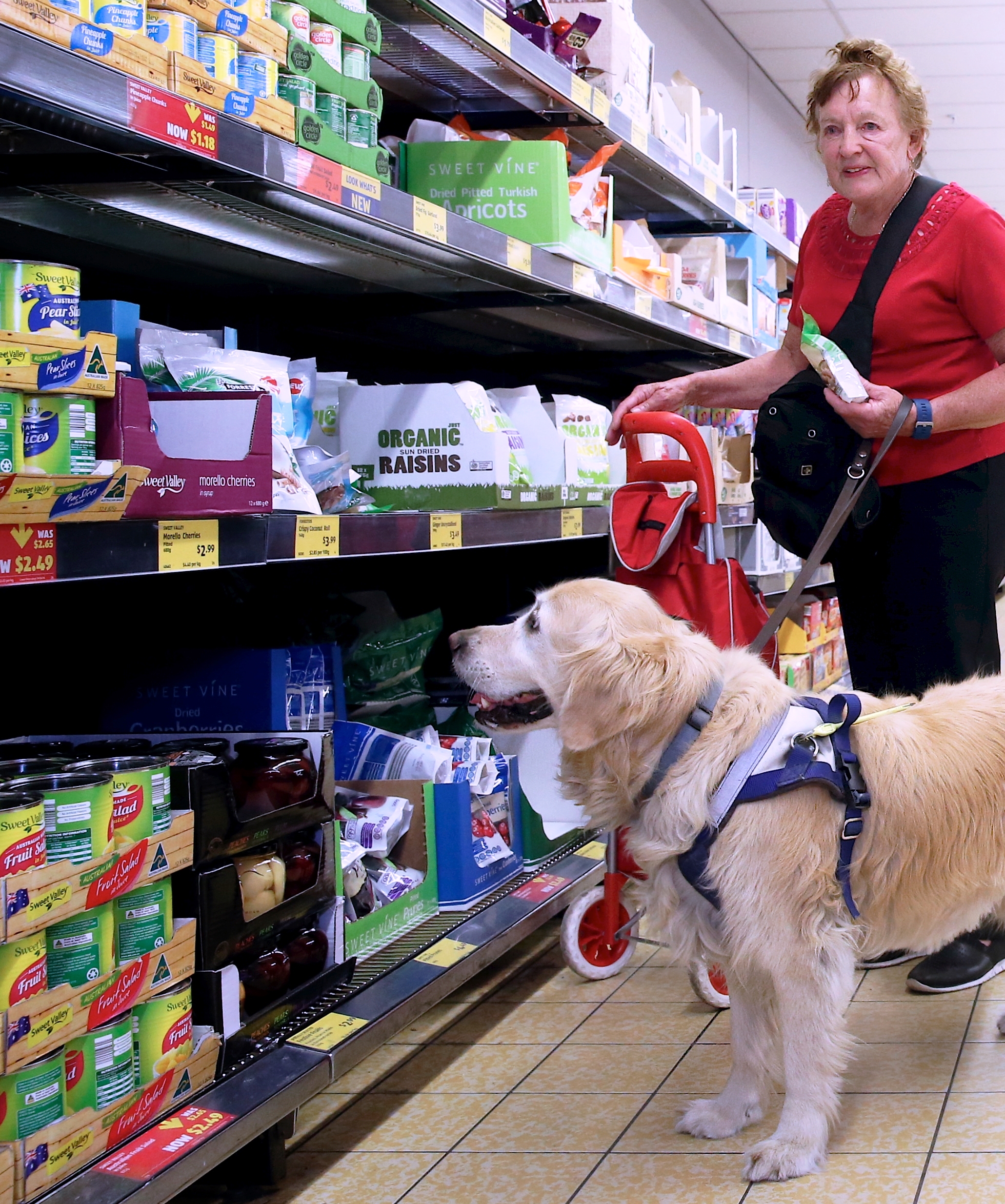 As you can see, Goldie gives Jenny everything she's got. She helps Jenny to live independently and provides love and companionship. And Goldie is dearly loved in return.
The difference that Goldie has made in Jenny's life is extraordinary. It wouldn't have been possible without your amazing generosity.
But it's also why your donation today is so important. Please click here.
For every puppy that you help us train, another person like Jenny can be given the companionship, freedom and independence they are waiting for.
With a Seeing Eye Dog by their side, they'll be able to get around safely and live the life they choose.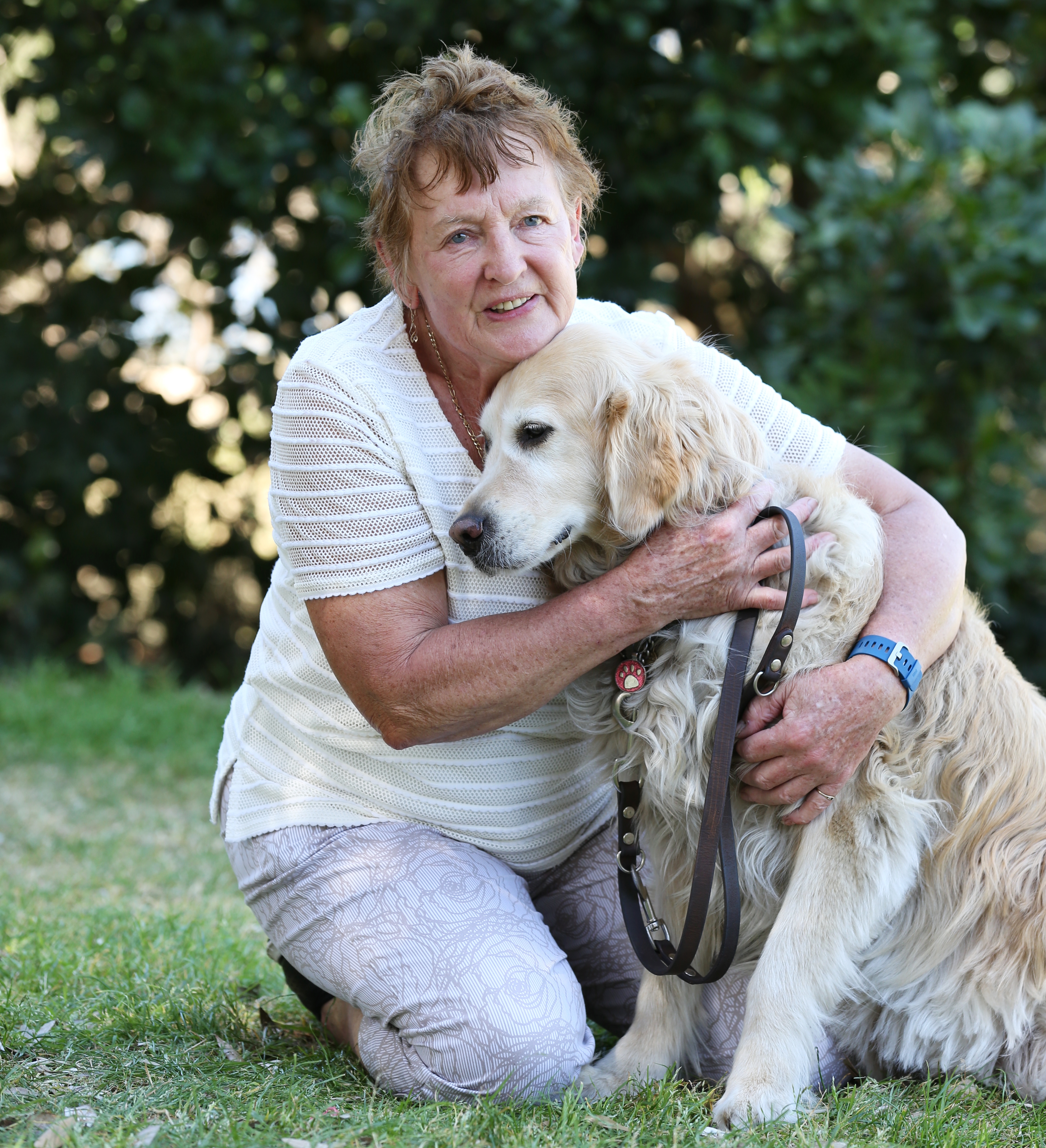 And if you've had a dog yourself, you'll know the amazing bond they'll form. When a dog loves you and you love the dog, that love is forever.
A gift today will help turn gifted puppies into a Seeing Eye Dog superstar just like Goldie!