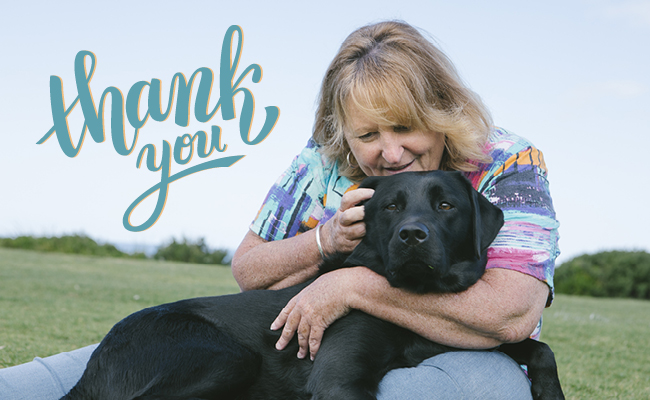 Help make more perfect matches.
Cassie was declared legally blind in her early 20s. It was devastating.
'I was told there was no point doing further study and things like that because it was only going to get harder,' says Cassie.
Cassie is smart, determined and strong. For many years she juggled the demands of a full-time job, raising a daughter on her own and caring for her elderly parents – all without the need for extra support.
'But a terrifying incident where Cassie was nearly hit by a car made her realise it was time for her to get a dog to help her get around safely.
'I stopped to let a car drive past, but it didn't move so I stepped forward. The car took off at the same time and missed me by a whisker. The driver was probably gesturing to me, but I just couldn't see him.'
When she was matched with her Seeing Eye Dog Neesha, Cassie got much more than a mobility support. She also got a loyal and loving companion who has given her the courage to live her life to the fullest.
With Neesha by her side Cassie is going to places she used to avoid and experiencing things she'd been told would never be possible. She's more connected to her friends, family and community – and is happier than she's ever been.
'Since getting Neesha I've definitely become more adventurous. I'm making different choices and trying different things. It can be very isolating when you're by yourself. When Neesha's with me I never feel alone.'
Many Australians like Cassie are still waiting for their Seeing Eye Dog. It takes two years to train a Seeing Eye Dog, and a whole lot of work to match the right dog to the right person.